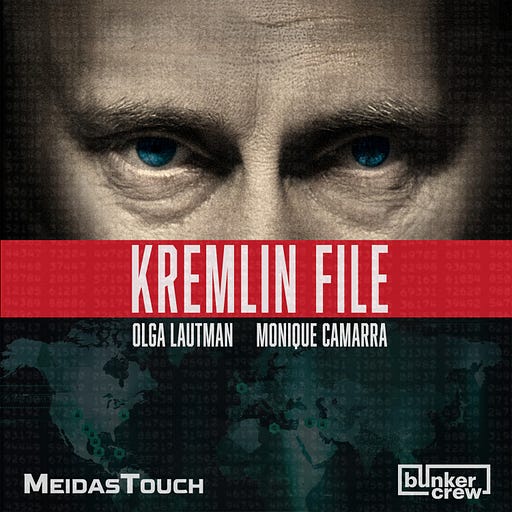 Jun 4, 2022 • 40M
Best Of: Ukraine, Putin's Testing Ground (Daria Kaleniuk & Paul Niland)
Hosted by renowned researcher Olga Lautman and political activist Monique Camarra, KREMLIN FILE takes audiences on a riveting journey through the rise of Putin and the spread of authoritarianism across the globe. We also explore Russia's hybrid warfare toolkit to subvert democracies around the globe.
Originally aired September 2nd, 2021
Olga and Mo are joined by Paul Niland and Daria Kaleniuk to continue their exploration of hybrid warfare. They discuss how Ukraine became the testing ground for Putin's campaign against the west, only to emerge as the standard-bearer in the fight against corruption.  
Daria Kaleniuk is co-founder and executive director of the Anti-Corruption Action Center, a powerful national organization that has shaped Ukraine's anti-corruption legislation and efforts. Daria's organization ensured that Ukraine's newly elected parliament designed strong anti-corruption legislation, including the laws on the National Anti-Corruption Bureau of Ukraine, the special anti-corruption prosecutor's office, High Anticorruption Court, open property registers and electronic asset declarations. Daria has also founded critical resources to track money laundering and corruption internationally, specifically first known public register of national politically exposed persons. She is co-founder of the international Democracy in Action conference hold annually in Ukraine seeking solutions to global threats to democracy. Twitter: @dkaleniuk 
Paul Niland is a businessman, writer, and political commentator. His passion for Ukraine stems from his involvement in the revolutions of 2004/5 and 2013/4, and his writings about Ukraine are often focused on helping the international community better understand the reasons for and background behind the ongoing war in the Donbas, as well as Ukraine in general. Paul is the Founder of Lifeline Ukraine, the country's first, national, professional, 24/7 suicide prevention and mental health support service. Initially, Lifeline Ukraine was established to address one of the most serious questions in Ukraine today, the heartbreaking suicide rate in Ukraine's veterans community. Twitter: @PaulNiland