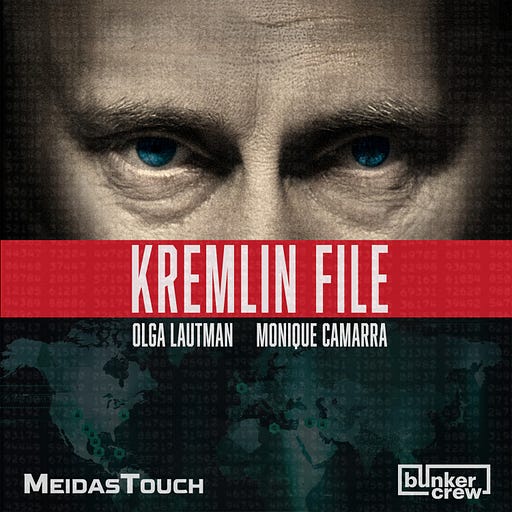 Apr 22, 2022 • 55M
Putin's Purge with Andrei Soldatov
Hosted by renowned researcher Olga Lautman and political activist Monique Camarra, KREMLIN FILE takes audiences on a riveting journey through the rise of Putin and the spread of authoritarianism across the globe. We also explore Russia's hybrid warfare toolkit to subvert democracies around the globe.
Olga and Mo are joined by Andrei Soldatov, an investigative journalist and watchdog of the Russian secret services' activities. With Putin lashing out on the world stage and purging the ranks, Andrei shares his POV on Russia's failure in Ukraine and who is to blame.
Andrei Soldatov is a Russian investigative journalist, co-founder of Agentura.ru, a watchdog of the Russian secret services' activities. He's been covering security services and terrorism since 1999. He is co-author with Irina Borogan of The New Nobility: The Restoration of Russia's Security State and the Enduring Legacy of the KGB (PublicAffairs, 2010), The Red Web: The Struggle Between Russia's Digital Dictators and the New Online Revolutionaries, and most recently, The Compatriots: The Brutal and Chaotic History of Russia's Exiles, Émigrés, and Agents Abroad. He is also a senior fellow at CEPA and contributes to the Moscow Times and various international publications.
https://twitter.com/andreisoldatov
https://cepa.org/our-people/andrei-soldatov/
https://agentura.ru/
*Sponsor Links*
Athletic Greens (special offer): https://athleticgreens.com/kremlinfile 
Jordan Harbinger Show: https://www.jordanharbinger.com/